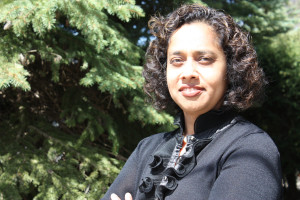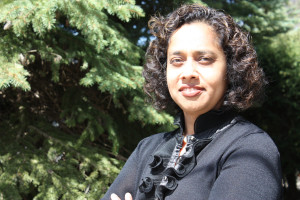 Shakuntala Rao is Professor of Communication and Journalism at StateUniversity of New York, Plattsburgh, New York, USA. She received her Ph.D. from University of Massachusetts-Amherst, M.A. in Communication Studies from Penn State University and B.A. (honors) in Philosophy from MirandaHouse, University of Delhi, India.
Shakuntala's research and teaching interests are the areas of global media, postcolonial theory, media ethics, and popular culture. She has published numerous articles and review essays in both Communication and interdisciplinary journals such as Interventions: Journal of Postcolonial Studies, Women's Studies International Forum, Journal of Communication, Global Media Journal, Communication Review, Howard Journal of Communication, Journal of Broadcast and Electronic Media, American Journalism Review, Journal of Communication Inquiry, Asian Journal of Communication, and Journal for the Society of Social Research.
Shakuntala's past research has focused on the intersections between media
studies and postcolonial theory. Her frequently cited article, "Where is
the study of empire? Connecting international communication to
postcolonial theory," published in the Journal of International
Communication, dealt with issues of hybridity, identity, and colonial
history. Her articles on media and postcolonial theory have appeared in
the journals Global Media and Communication, Journalism: Theory, Practice,& Criticism, and in the anthology, Media Ethics Beyond Borders
(Routledge).
Her current research is focused on journalism practices and global media
ethics. As part of a research group comprised of Herman Wasserman (Rhodes University, South Africa), Clifford Christians (U of Illinois-Urbana), and Stephen Ward (U of Wisconsin-Madison), Shakuntala has been working on a project titled, "Towards Global Media Ethics: Exploring new theoretical perspectives." The group jointly authored a monograph-length paper which appeared as a special issue in Ecquid Novi: African Journalism Studies. The group has also organized and hosted forums and Roundtables on media ethics for scholars and journalists around the world. These Roundtables have been held at Stellenbosch University (South Africa) and Zayed University (UAE, Dubai).
Her recent work in global media ethics have appeared in the journals Journalism Studies, Journal for Mass Media Ethics, and South Asian Journal and presented at International Communication Association conference (Singapore), Russian Communication Association conference (Moscow), Global Studies conference (Dubai), and International conference on Media and Diversity (Colombo, Sri Lanka).
Shakuntala has received several grants and awards including the Ford
Foundation Faculty Award, Senior Fulbright Scholarship, Fellow at the
Stellenbosch Institute of Advanced Study (South Africa), Fellow at the
Ethics Colloquia at the University of Missouri, Nuala Drescher Award, and
the Presidential Research Grant. She is Associate Editor of Journal of
Global Mass Communication and on the board of peer-reviewers for Senior Fulbright Scholars Program in South Asia. Shakuntala has been involved in training and in conducting workshops on ethics for print and television journalists in India, Venezuela, China, Pakistan, United States, Sri Lanka, South Africa, and Kazakhstan.